Reminiscence
A downloadable game for Windows
JDUAAR ... was that the sound of an explosion? Shortly thereafter, Jet awakens and he's confused about his current whereabouts. Jet tried to recall what was happening, but Jet could not remember anything!

Looking around, the items on the ship were also damaged. With barely any memory, he tried to get out of this ship and explore this "new" world.

What exactly is happening to him?!
And why did he end up here?!
Description
Reminiscence is a puzzle game with rich story where every outcome will be determined by your own actions. In Reminiscence, you will try to solve puzzles while also uncovering the truth about Jet's story.

Mechanics
In Reminiscence, Jet will need to solve several puzzles. The puzzles vary in more ways than you can imagine. On some of these puzzles, you might also need some items. These items can be hidden or obviously put on the world of Reminiscence. For more details on the mechanics, please refer to the image below.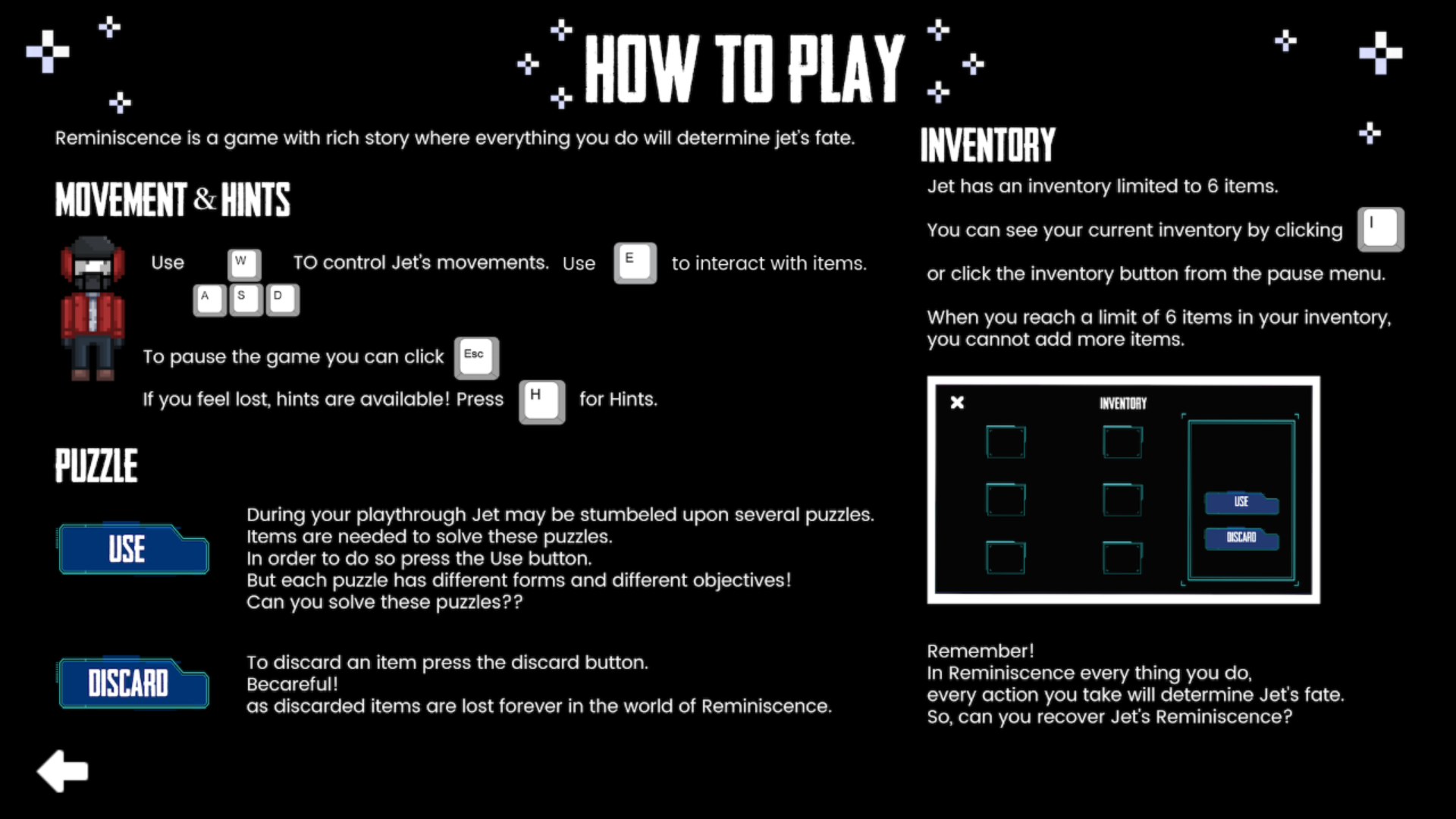 Developed By:
Juli (Julia Ningrum) - 1706079322
Dean (Raihansyah Attallah Andrian) - 1706040196
Uci (Gusti Ngurah Yama Adi Putra) - 1706979253
Anit (Janitra Ariena) - 1706979316
Alza (Alya Zahra) - 1706039906
Rafif (Rafif Taris) - 1706979436
#csuigamedev2019
Version 2.1.2
What's New ?
Fix several bugs regarding gameplay and menu system
Polished sound effects
Polished dialogue
Added secret endings (Main changes)
Added new deep lore (Main changes)
Uploaded on 24th December but file accidentally got deleted
Version 2.1.4
What's New ?
Fix Bugs
Version 2.1.3 has been taken down due to the game being unplayable.
Uploaded on 27th January 2020

Download